Plot Summary
Having solved the earthquakes in Zeiss, Estelle and team now find their way to Grancel, the capital of the Liberl Kingdom. Here, after finding a lost child (Renne), the team helps the military investigate a series of threatening letters being circulated.
Renne gets herself lost (again) and after finding her, she hands Estelle a letter from ... Joshua?? Estelle heads to Gurune Gate only to find Kevin. Finding out it's a trap, they rush back to Grancel to find (almost) everyone unconscious. They find an invitation letter to a "tea party", where they find the next member of the Ouroboros, .....
As a slight aside, this chapter is a bit slower? less intense? than the other ones. There are fewer side quests, and you basically spend half the chapter running around. And yet this chapter takes up as much time as the other ones...
Grancel Port
There are two parts to Grancel Port, but sadly, no treasure.
Right before you leave the first map, there is a building on the right side. Enter for a forced battle.
Forced Battle Special Ops: Dual Claw (特務兵 雙爪) x2
Essentials
HP: 2280
Exp: 41


x0 x0 x0 x0 x13 x0 x0
Elemental Effect
100%
100%
100%
100%
Forced Battle Special Ops: Gunner (特務兵 槍手)
Essentials
HP: 1820
Exp: 41


x0 x0 x8 x8 x0 x0 x0
Elemental Effect
100%
100%
100%
100%
If possible, spread out the party a bit, as Gunner's attacks deal damage in a medium circle. Additionally, the Dual Claws can also use Shadow Weave (影縫) which can cause AT Delay. There's two of them too, so they should be your priority.
After the battle, one of them reveals that the "Captain" (i.e. Amalthea from Trails in the Sky FC) is behind all this. Estelle also discovers that one of the new prototoype engines have been stolen.
Exit the building ane continue to the next half of the port.
Advice

The astute reader will notice that the chapter is drawing to an end, which can only mean fighting the chapter boss. Since the wolves aren't too hard, take this opportunity to farm CP for everyone.
Boss Preparation
The upcoming boss battle is going to be really long. There are three parts to it, and you don't get any break to heal up or whatnot. You don't need to fully prepare yourself, but it does make the boss easier.
If possible, try to have at least one person be able to case

La Teara

. You'll soon get a temporary character who can cast it, but it's a bit safer if two people can heal (e.g. if one runs out of EP or something)
Try to have everyone able to cast a non-Fire single-enemy attack spell. You'll need it for the second battle
To possibly make the first and third battle, consider equipping someone with something like

Sleep

or

Seal

. If you're lucky and the minion is asleep/sealed, you have one fewer enemy to worry about
If you have enough spare ingredients, consider making a few more

Bitter Tomato Sandwich

. Last thing you want is to see the Critical AT bonus and not have enough CP to use an S-Break.
Head north and after the first building, save, then go all the way to the right for a three-part boss battle. Yes, that's right, back-to-back-to-back boss battle. This is probably going to be Estelle's biggest endurance test in the whole series.
Minion Special Ops: Dual Claw (特務兵 雙爪) x2
Essentials
HP: 2280
Exp: 41


x0 x0 x0 x0 x13 x0 x0
Elemental Effect
100%
100%
100%
100%
Minion Special Ops: Gunner (特務兵 槍手) x2
Essentials
HP: 1820
Exp: 41


x0 x0 x8 x8 x0 x0 x0
Elemental Effect
100%
100%
100%
100%
Nothing too special, it's basically the same as the previous forced battle but with one more gunner.
The Special Ops soldiers manage to delay Estelle long enough. A powerful impact hits the warehouse door ... then another hit, then finally ... a septium tank!
That's right, a SEPTIUM TANK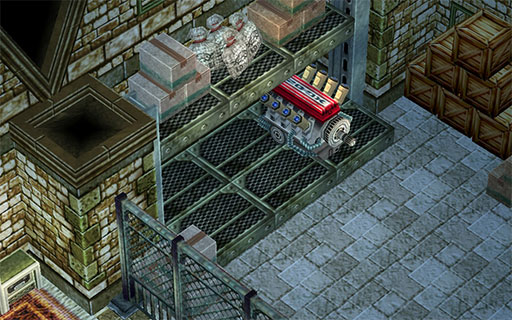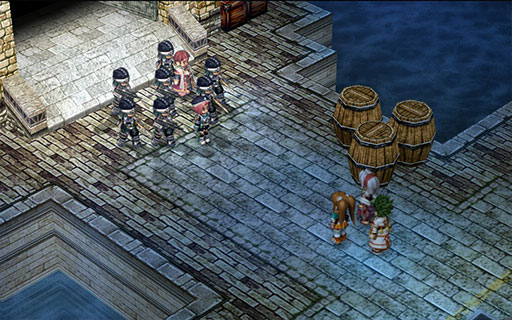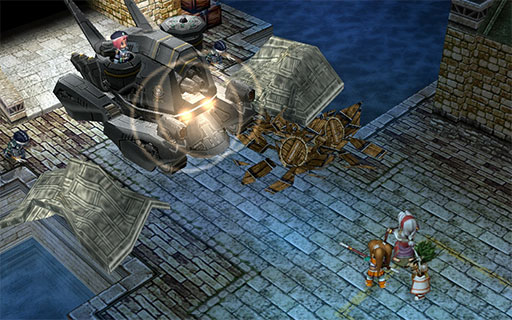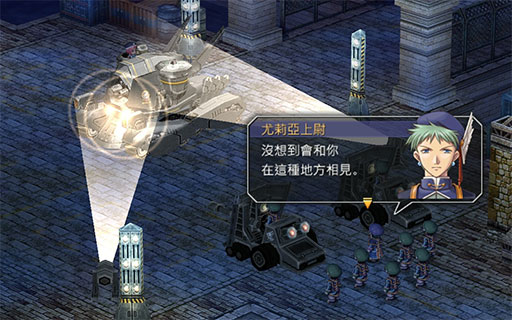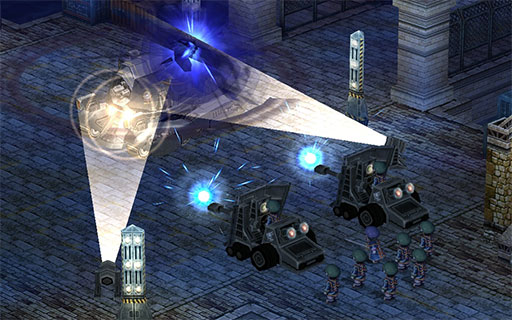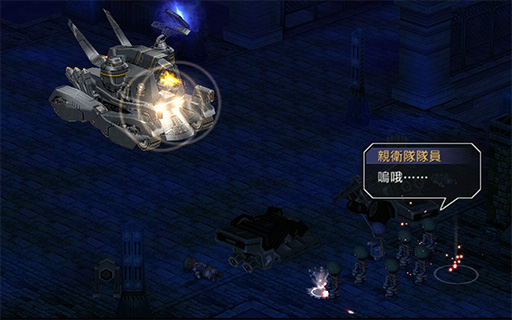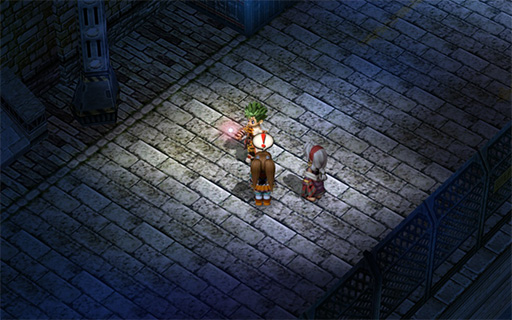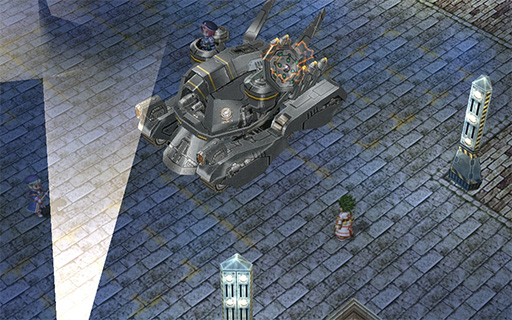 To weave a story from the screenshots. With the power of the Septium Tank, Amalthea intends to blast through the heavy doors of Grancel Palace and force Duke Dunan (who she captured earlier in the chapter) to be king. Midway, she is stopped by Julia Schwarz, leading a small team to stop her.
Julia gives the order to fire, but Amalthea activates her Gospel device which temporarily blocks all Septium power nearby. Julia's artillery is unable to fire, but the Septium Tank is somehow unaffected and pretty much pwns Julia.
Seeing the horribadness of the situation, Kevin tries a last ditch effort and pulls out a staff (one of the sacred treasures). He runs up and hits the tank with the staff, breaking the Gospel device's effect. Julia joins up the team to defeat the boss.
Julia Schwarz
Starting Stats:

Level ?, HP 5239, EP 314, CP 110
STR ?, DEF ?, ATS ?, ADF ?
SPD ?, DEX ?, AGL ?, MOV ?, RNG ?
Arts:

Teara

- 20 EP - Heals one ally 3000 HP

La Teara

- 55 EP - Heals everyone in a medium circle by 3000 HP

Plasma Wave

- 80 EP - Wind damage to all enemies in a line, 20% chance of Seal

Dark Matter

- 40 EP - Space damage to one enemy

空之領域

- 100 EP - Space damage to all enemies in a medium circle

Blizzard

- 150 EP - Water damage to all enemies, 20% chance of Freeze
Crafts:

Roaring Cavalry 咆哮騎兵 (25CP) (Range = RNG) - Dispel one enemy
Mirage 海市蜃楼 (50CP) (Range: self) - Add Guard effect = nullifies next attack
Triangle Attack 三角光擊 (S-Craft) - (Range: entire battlefield) - Damage to all enemies in a medium circle
We only get to use Julia for this battle (she becomes a playable character in Trails in the Sky: the 3rd). I really don't have much to say about her. The only purpose she serves is to pretty much give you a 4th teammate to make fighting the boss easier.
Boss Septium Tank
Essentials
HP: 19850
Exp: 828


x5 x0 x40 x0 x15 x15 x15
Elemental Effect
100%
100%
50%
100%
Like all bosses, this one is going to take a while. This one might take especially long since: 1. the boss has lots of life, 2. the boss dishes out LOTS OF DAMAGE, 3. the boss has quite strong DEF so physical attacks won't do much, 4. the boss has no elemental weaknesses (so there isn't a particular magic to spam).
The boss has these attacks:
Regular gun attack - deals 650-750 damage in a medium/large circle
Regular "run over" attack - deals 1000-1350 damage to everyone who gets run over (short line in front of the tank). Chance of Faint
Flamethrower attack - deals 700-800 damage in a "short line" in front of the tank
Max Power (出力全開) - STR up, SPD up
Septium Cannon (導力加農咆) - deals ~2000-2200 damage in a straight line. There is a very short charge-up time. This is a really dangerous attack
Because most of the boss' attacks can damage lots of characters if they're standing together, it's "obvious" that the strategy is to split everyone up, right?
That might work, but I don't recommend it. I prefer to keep everyone together, especially if you have at least two characters who can cast La Teara since the healing can be done efficiently.
In my playthrough, I didn't follow much of a strategy which is why things took longer than it should. Looking back, this is probably what I would have done:
Keep everyone together for efficient healing. Keep everyone's health up because once the tank starts charging up its Septium Cannon, you most likely won't have enough time to cast a healing spell. Try to use Kevin's S-Break only when absolutely necessary (e.g. everyone is low on health and you can't heal in time).
Since Septium Cannon does so much damage, you can use it to help boost your CP gauge. Just remember to keep your health up if you want to farm Septium Cannon.
Everyone's physical attack won't do much damage (maybe 100-300 damage), so stick with magic (300-700 damage). Since the boss has no elemental weakness, feel free to cast any attack spell except Fire. And definitely choose the spells that targets the enemy and not "the ground" (e.g. some of the line-ranged and circle-ranged spells) because most likely, the boss will move out of the ground target circle.
If you have Scherazard in your team, it's more reason to keep the party members relatively close together so her Heaven's Kiss craft can give AT bonus to everyone.
Have patience, don't rush it, and use S-Breaks to steal as many Critical AT bonuses as possible.
As a bonus, if the boss is running really low on health, consider healing up HP and EP before finishing the boss off. Remember there is a third boss fight immediately afterwards.
With the tank defeated, Amalthea jumps out with a few Special Ops soldiers to have a "fair and square" final battle (how is this at all fair and square?). Without given any time to rest, Estelle is immediately thrown into the third part of the boss fight.
Boss Amalthea
Essentials
HP: 10760
Exp: ?


x0 x2 x5 x5 x10 x5 x3
Elemental Effect
100%
100%
100%
100%
Minion Special Ops: Dual Claw (特務兵 雙爪) x2
Essentials
HP: 2280
Exp: 41


x0 x0 x0 x0 x13 x0 x0
Elemental Effect
100%
100%
100%
100%
Minion Special Ops: Gunner (特務兵 槍手)
Essentials
HP: 1820
Exp: 41


x0 x0 x8 x8 x0 x0 x0
Elemental Effect
100%
100%
100%
100%
This battle is a bit easier than the tank (since physical attacks do more than 100 damage to Amalthea), but the 3 minions can make this start off a bit difficult (especially if you finished the tank battle in bad shape).
Start off by healing HP and EP. Focus on the Dual Claws first so you don't have to deal with their annoying Shadow Weave skill. The Gunner occasionally uses Machine Gun (機槍速射), but it's just regular damage in a small/medium circle.
At the start, Amalthea is only annoying as her attacks can cause Seal and Poison. Later on, she becomes more dangerout. Her skills include:
Paralysis Scatter Shot (麻痺彈亂射) - does 700-850 damage to a small/medium circle, chance of Seal
Poison Scatter Shot (毒彈亂射) - does 500-700 damage to a small/medium circle, chance of Poison
CP Super Absorb (CP 超吸收) - steals 50 CP from one character
亂舞咆 - attacks one character for ~1900-2100 damage
Mine Trap (爆雷機關)
Amalthea will lay down a few mines in random places. When it's the mine's turn, it will self-destruct and deal ~1900 damage in a medium circle.
This battle is relatively simple. Start by killing off the minions. Steal Critical AT bonuses with S-Breaks and target Amalthea, and stay away from the mines. You should be fine if you keep everyone's HP above 2200, but feel free to use Kevin's S-Break when needed to buy some time to heal.
Post-chapter
Having defeated the tank and finding out that Duke Dunan is safe, Estelle's attention turns to Renne. She's not with the Duke and she's not in the tank ... she is, in fact, Legion XV, the Angel of Destruction. Renne sent out all the threatening letters and her "parents" were in fact just dolls as part of the play. After her work here is done, Renne summons her giant mecha Patel Matel and leaves with the Gospel device on the tank.
Note: The "other" player (Agate/Scherazard) permanently joins the party.